Subsea Valve Pack & Control Units
Need customized products? Get in touch with us
For more information or requests, please contact us on +47 477 77 500 or sales@envirex.no.
Valve Pack &
Control Units
Envirex has a large selection of hydraulic control units. Our Valve Packs are designed for harsh environments and to give the user the best possible control and feedback of its remote operation. Remote control is often done by combining our software «VJU STUDIO», and our controller PCB which secures solenoid operation, pressure- and flow reading. 
Each projects have different requirements and that is why we can provide customized solutions to fit our client`s requirements. Our Valve Pack working pressure range from 3,000PSI (207 Bar) to 20,000PSI (1379 Bar) and have different valve configurations as on/off, proportional, poppet/leakage free, pressure regulation, etc. In addition, we have an unique design of hydraulic actuated leakage free valves for up to 20 000PSI.
See datasheets for further details.
4-Function
Thruster Valve Pack
The 4-Station High Flow Valve PA compact high flow thrust controller which provides precise control of propulsion thrusters on underwater vehicles. Contains 8 off proportional pressure valves rated to 160 l/min.
By using proportional valve technology instead of servo valves in this type of applications, it results in higher efficiency and reduces overall power requirements from the hydraulic system. 
The Valve Pack contains eight off proportional pressure valves rated to 160 LPM (42 USGM) that provide low pressure drop on most standard ROV applications. The ValvePack also incorporates a proportional pressure relief valve for pressure control on external hydraulic power units. Includes pressure and temperature sensor.
4-Station High Flow Valve Pack
The 4-Station High Flow Valve Pack is designed and developed to achieve a cost effective valve pack with high flow capabilities for subsea use. This valve pack allows short delivery time with proven concepts. 
It is a universal remotely operated control unit which consists of 4 x directional control valves with individual pressure and flow control, allowing high flow of up to 120L/Min in the output lines. The valve pack use our well known and proven PCB board to operate the hydraulic control valves which give pilot pressure to each PVG valve to control flow and pressure. Each valve group has pressure sensors for monitoring input- and output pressure. Auxiliary signal input is also achieved through a dedicated connector.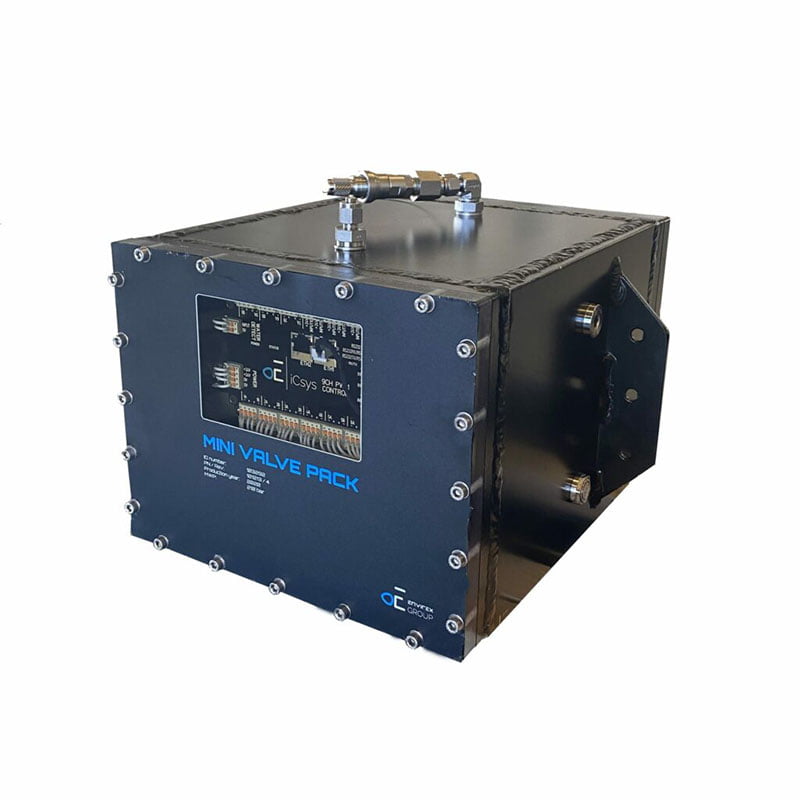 4-Station Small Valve Pack
The 4-Station Small Valve Pack have four
proportional directional valves with outlet ports in front. Each outlet can be pressure and flow adjusted to achieve correct pressure for
applications.
There are two 8 pin burton connectors in the front for
connection to ROV or/and connect to other subsea tooling using canbus or any other type of communication. This solution is provided to have a more redundant valvepack if installed on equipment with more than one valve pack in series. There is pressure and return connection in front for hydraulic supply. All valves are located inside the valve pack housing and are depth compensated using a compensator.
The 8-Station Valve pack consists of 8 x NG6 directional valves built into a compact and service-friendly pressure compensated subsea housing. Loaded with functionality, proportional, solenoid or mixed valve configurations driven by a highly flexible and configurable digital control system, makes the Envirex 8-Station Valve Pack the perfect choice as a part of your control system or for tooling applications.
The Envirex PWM PCB™ is capable of controlling up to 12 bi-directional proportional and/or solenoid valves and contains 4 x 16bit analog interfaces for pressure/temperature transducers and water detectors which can be specified with the valve pack. The communication between the topside software and the iCsys Control Can or the PCB is performed through RS232, RS485 or Ethernet with 10-30 Volt operating voltage.
The Dirty Work Valve Pack (DW-VP) is a compact all-in-one unit for subsea use in relation to tooling and pressure leak / test applications.
DW-VP contains 4x NG4 and 1x NG6 proportional valves for controlling ROV tooling. A motor-pump (Dirty Work Pack) are flanged directly to the Valve Pack making it to a all-in-one system. The unique design are both cost efficient with regard to ROV interface and reduced connections (hoses/fittings) makes it a more reliable system due to HSE impact and leakages. Surface Software gives the operator control of both pump pressure and flow adjustment on all output lines.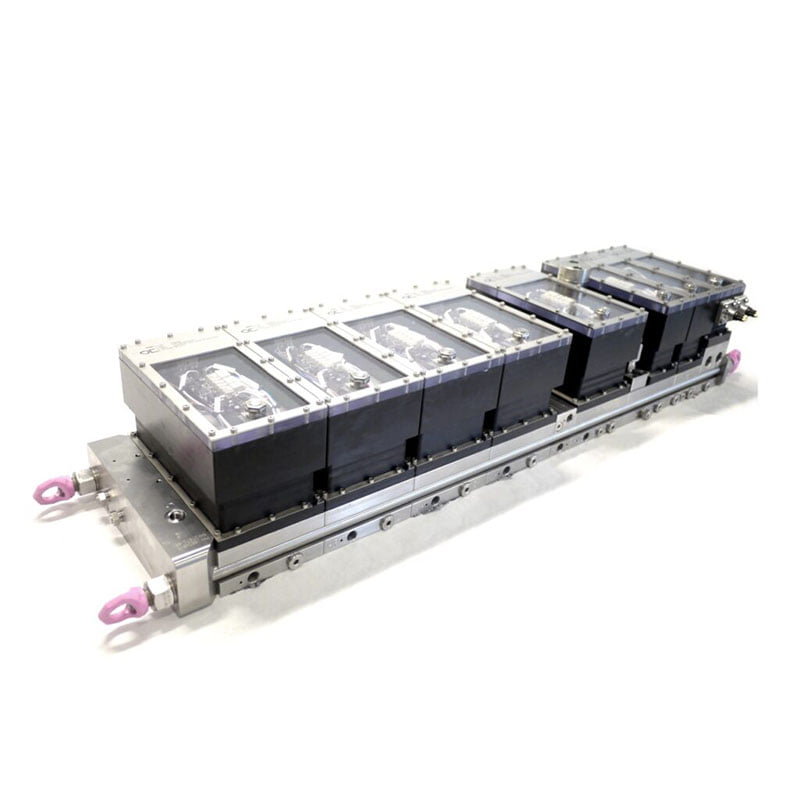 The system is based on a intelligent Valve Pack specially designed to handle different control requirements for both simple and complex underwater systems. The modular concept allows the user to set up the ValvePack to fit several purposes and are cost effective in regards to production, assembly and potential system expansion.  
Power and comms link to all extension modules provides a communication link to the surface which allows the system to operate as a self-contained control system.
Can also be made in Aluminium.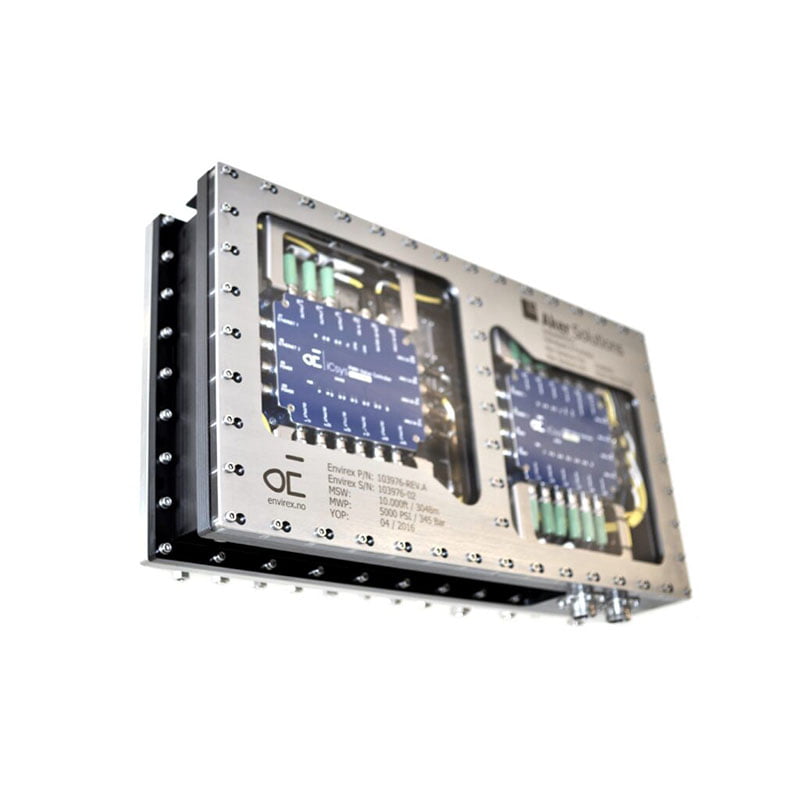 Subsea WOCS
8-function Valve Pack
The Subsea WOCS Valve Pack is a self contained unit consisting of 8 pulse operated/controlled DCVs for controlling 8 hydraulic functions on a subsea tool e.g. an openwater workover stack or a running tool. The Valve Pack is pressure compensated and suitable for us at 3000 water depth.
Features
Compact and robust design
Dual Redundancy
Rated to 3000MSW
Service and user friendly
Standardized Hardware & Firmware
Accurate Monitoring
Ethernet communication